The Fraternity of Alpha Kappa Lambda is pleased to announce the recipients of the 2015 Holmes and 2015 Brehm Awards.
2015 Holmes Award- Dillon Mulroy (Gamma Nu, '11, Mansfield University)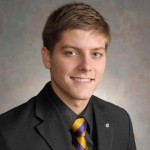 The 2015 Holmes Award Recipient, Dillon Mulroy, '11 is an initiated member of the Gamma Nu Chapter at Mansfield University and has served as Chapter President and Scholarship Chairman. When asked his feelings on winning this award, "Words cannot express the amount pride I have in our Fraternity, it was truly unexpected and is an honor to be the recipient of the Holmes award. I joined AKL because the brothers at my chapter were and are some of the most accepting, kind, and hardworking people I have ever met.  I would not have achieved half of the personal successes I have without them and the opportunities being a member of AKL have provided."
His nominators wrote, "Dillon Mulroy is a big reason the chapter is where it is today. Without him, it is quite possible that we would have still been in ten plus thousand dollars of debt, and may not have received the awards at the last conclave. No, he didn't pay all of the money himself, and no, he didn't put it all of the community service hours himself. What he did do, however, is bring a new attitude to the Chapter, and helped motivate our brothers to achieve the things they did, and are still doing. I know without Dillon, I don't know if I would be where I am today. The way Dillon interacted with our brothers, our pledges, other Greek Life members, and adults was truly phenomenal." They went on to say, "Without him… I might not even be a part of Alpha Kappa Lambda. Dillon brought a different kind of presence to Mansfield University. He was a big part of Greek life, and almost everyone in the school knew who he was, and he was never one to be shy. Dillon blows the standards for being a Man of Character out of the water, and that is why I think he deserves this prestigious award."
Brother Mulroy is currently working as a Software Engineer for State Farm Insurance in Phoenix and assisting in mentoring/advising the AKL Arizona State Colony.
2015 Brehm Award- Danny Ruvolo (Gamma Kappa, '13, Fairleigh Dickinson University)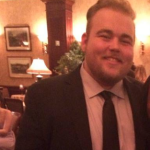 The 2015 Brehm Award Recipient, Danny Ruvolo, '13 is an initiated member of the Gamma Kappa Chapter at Fairleigh Dickinson University and has served as Chapter President, New Member Educator, Public Relations Chairman and Event Planning Chairman. When asked his feelings on winning this award, "I was ecstatic and very appreciative to know that I had made that much of a difference within AKL to have been chosen for this award. I joined for the strong brotherhood existing within AKL and because I wanted to be a part of something bigger than myself."
One nominator explained, "… Danny has shown himself to be a man of exceptional intelligence and character. He receives excellent grades in all his classes. He is very focused on his career. He is very responsible: in addition to his course load, he also works in a veterinary hospital. Danny has demonstrated excellent leadership abilities in his capacity as president. I attend every chapter meeting and Danny is able to command everyone's respect and admiration. Also, being able to maintain order in a room filled with eighteen-to-twenty-two year old men is no small accomplishment."
Brother Ruvolo is currently pursuing a degree in biomedical sciences before applying to Veterinary school.
Both men will be presented with a plaque commemorating their achievements at the 2016 Conclave in Las Vegas.
---
Established in 1954, the Holmes award is named in honor of Brothers Fred Gooding Holmes (Alpha `15) and Fred Weber Holmes (Alpha `38).  Each chapter may nominate one senior member for this honor, which is presented to the man considered by the judges to be the Fraternity's "most outstanding undergraduate member".
Created in 1982 in honor of Clarence E. Brehm (Iota `32), this award is presented to the individual collegiate member who has illustrated superior abilities in leadership. This award is based both on performance within the Fraternity and participation in campus activities.